7 Night Phuket to Phuket Cruise
on Star Clipper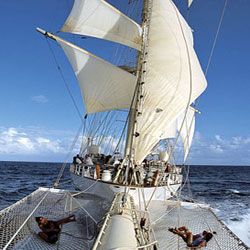 7 Night Phuket to Phuket Cruise
They are the stars of the sea. Star Clipper and Star Flyer are as fleet as the wind and as graceful as swans.
These are true clipper ships reflecting their proud heritage in every inch of their polished brass and gleaming brightwork. Step aboard these unique vessels and discover a new age of sail, where the traditions of the past are happily married to the comforts and amenities of the present day. Star Clipper
...

Since 1991 Star Clippers Ltd. has offered sophisticated travelers the ultimate cruising vacation alternative – a tall ship "mega-yacht" experience aboard authentic re-creations of the classic sailing clipper ships that ruled the waves during the 19th century.
The brainchild of Swedish entrepreneur, Mikael Krafft, Star Clippers operates three of the largest barquentine and full-rigged sailing ships in the world. Star Clipper, Star Flyer and flagship, Royal Clipper are a triumvirate of
...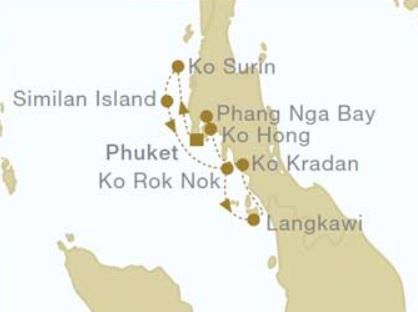 | Day | Destination | Arrive | Depart |
| --- | --- | --- | --- |
| 1 | Phuket - Patong Bay, Thailand | | |
| 2 | Ko Surin, Thailand | | |
| 3 | Ko Miang - Similan Island, Thailand | | |
| 4 | Hin Daeng, Thailand | | |
| 4 | Ko Rok Nok, Thailand | | |
| 5 | Langkawi, Malaysia | | |
| 6 | Ko Kradan, Thailand | | |
| 7 | Phang Nga Bay, Thailand | | |
| 7 | Ko Hong, Thailand | | |
| 8 | Phuket - Patong Bay, Thailand | | |